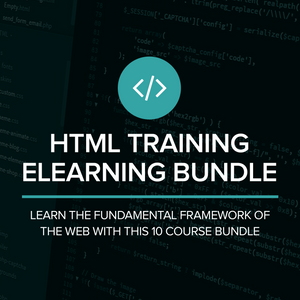 HTML stands for HyperText Markup Language, a foundational coding language used for building web pages. HTML is an industry standard language that's guaranteed to be understood by all web pages. HTML is also a universally accepted standard for making sure search engines like Google, Yahoo, and Bing can find your website based on relevant search terms.
HTML defines the parts of web pages to web browsers that visit them. Those browsers then take a site's HTML content and translate it into what you see on your device's screen. 
If you are looking to begin your development career starting with HTML is typically the first step in the long journey to becoming a technical wizard.
The courses in this bundle include:
HTML/CSS Boot Camp
Applying Design To Wireframes with HTML5 & CSS3
Fundamentals of HTML
Quick Start for learning HTML basics
Modern Web Design HTML5 CSS3 beginners guide to Websites
HTML5 & CSS3 Site Design
Creating Animations using HTML5 Canvas
Introduction to HTML Course
The Ultimate HTML Developer
Building HTML5 Canvas projects from scratch
What You Get
LIFETIME access to all courses and content
10 courses
100+ hours of content
All courses are redeemed on AcademyHacker.com. Academy Hacker is an elearning course marketplace for hackers, developers, cyber security pros, and tech nerds.
Applying Design To Wireframes with HTML5 & CSS3
Quick Start for learning HTML basics
Modern Web Design HTML5 CSS3 beginners guide to Websites
Creating Animations using HTML5 Canvas
Introduction to HTML Course
The Ultimate HTML Developer
Building HTML5 Canvas projects from scratch