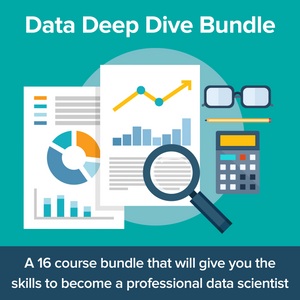 Big data is data sets that are so voluminous and complex that traditional data-processing application software is inadequate to deal with them.
Facebook's current issues around big data and the US elections highlight how data can have a massive impact on the world.
If you are technically inclined but not interested in building products becoming a data scientist may be the career for you.
Currently, on LinkedIn, there are 33,000+ job postings for data scientists globally. 
The courses in this bundle are as follows:
Scala Programming Language
Learn Tableau Desktop 9 from Scratch for Data Science
Statistics in R: Statistical Analysis with the R Programming Language
The Cassandra Distributed Database
Excel: A Complete Excel Course
Career Guide: Planing and Improving a Career in Data Science - Career Success in Analytics
Machine Learning: Introduction to Machine Learning with R
R Level 1: Data Analytics with R
From 0 to 1: The Oozie Orchestration Framework
Scalable programming with Scala and Spark
Learn By Example: Hadoop, MapReduce for Big Data problems
From 0 to 1: Hive for Processing Big Data
Learn By Example: Apache Flink
Flume and Sqoop for Ingesting Big Data
From 0 to 1: Spark for Data Science with Python
Pig for Wrangling Big Data
What You Get
LIFETIME access to all courses and content
16 courses
100+ hours of content
All courses are redeemed on AcademyHacker.com. Academy Hacker is an elearning course marketplace for hackers, developers, cyber security pros, and tech nerds.
Scala Programming Language
Learn Tableau Desktop 9 from Scratch for Data Science
Statistics in R: Statistical Analysis with the R Programming Language
The Cassandra Distributed Database
Excel: A Complete Excel Course
Career Guide: Planing and Improving a Career in Data Science - Career Success in Analytics
Machine Learning: Introduction to Machine Learning with R
R Level 1: Data Analytics with R
From 0 to 1: The Oozie Orchestration Framework
Scalable programming with Scala and Spark
Learn By Example: Hadoop, MapReduce for Big Data problems
From 0 to 1: Hive for Processing Big Data
Learn By Example: Apache Flink
Flume and Sqoop for Ingesting Big Data
From 0 to 1: Spark for Data Science with Python
Pig for Wrangling Big Data