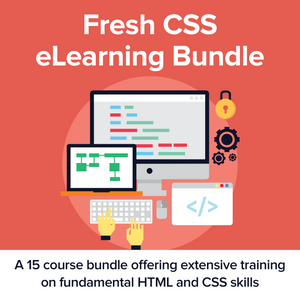 Cascading Style Sheets is a style sheet language used for describing the presentation of a document written in a markup language.
CSS is a fundamental language of the Internet. If you work on the front end of products becoming a CSS master is a major key.
There are 40,000 job postings globally on LinkedIn that mention CSS skills.
The courses in this bundle include:
Fundamentals of CSS and CSS3
Introduction to Sass for CSS
HTML5 and CSS3 Fundamentals
CSS Flexbox : Build Modern Web Layouts With Flexbox
Create a Portfolio Website with HTML, CSS & Bootstrap HTML & CSS - Learn to build sleek websites
Interactive Web Design with CSS Animation & Transition SASS - Beginner Crash Course
Building Responsive Websites with HTML 5 & CSS3
Learn By Example: The Foundations of HTML, CSS & Javascript
Build Responsive Real World Websites with CSS3 v2.0
HTML/CSS Boot Camp
Website Wireframing with HTML5 & CSS3
Applying Design To Wireframes with HTML5 & CSS3
CSS Development
Become a HTML and CSS Developer
Build a website HTML5 CSS3 Beginner Course
What You Get
LIFETIME access to all courses and content
15 courses
100 hours of content
All courses are redeemed on AcademyHacker.com. Academy Hacker is an elearning course marketplace for hackers, developers, cyber security pros, and tech nerds.
Fundamentals of CSS and CSS3
Introduction to Sass for CSS
HTML5 and CSS3 Fundamentals
CSS Flexbox : Build Modern Web Layouts With Flexbox
Create a Portfolio Website with HTML, CSS & Bootstrap HTML & CSS - Learn to build sleek websites
Interactive Web Design with CSS Animation & Transition SASS - Beginner Crash Course
Building Responsive Websites with HTML 5 & CSS3
Learn By Example: The Foundations of HTML, CSS & Javascript
Build Responsive Real World Websites with CSS3 v2.0
Website Wireframing with HTML5 & CSS3
Applying Design To Wireframes with HTML5 & CSS3
Become a HTML and CSS Developer
Build a website HTML5 CSS3 Beginner Course