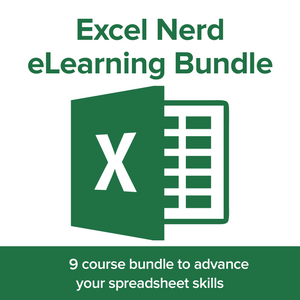 Excel skills are a must in any knowledge worker occupation. If you are not an Excel expert, your ability to manage and analyze data will be negatively impacted. 
There has been a material increase in the demand for basic computer skills in "middle-skill" jobs over the last 2 years. Obviously, Excel is such a core application to any knowledge and computer worker's daily workflow.
A study by Capital One revealed that not only are such Excel skills required for the 80%+ of middle-skill positions, proficiency in using productivity apps like Excel also provides a pathway to high paying jobs for workers without a college degree.
And Excel certifications can lift earnings by 12% on average compared to the earnings of non-certified users.   
This bundle will help you on your path to Excel mastery.
What You Get
LIFETIME access to all courses and content
9 courses
40 hours of content
All courses are redeemed on AcademyHacker.com. Academy Hacker is an elearning course marketplace for hackers, developers, cyber security pros, and tech nerds.
Introducing One Variable Statistics with Excel 2016
Quick Start Excel: Creating An Accountancy Spreadsheet
Complete Excel Course: From Beginner to Superhero in 9 Hours
Excel: A Complete Excel Course
Excel VBA - The Complete Excel VBA Course for Beginners
Creating Sports League Tables and Tournaments in Excel
Excel Formulas Made Easy - Learn more than 100 Formulas
Quick Start Excel: Getting Started With Excel